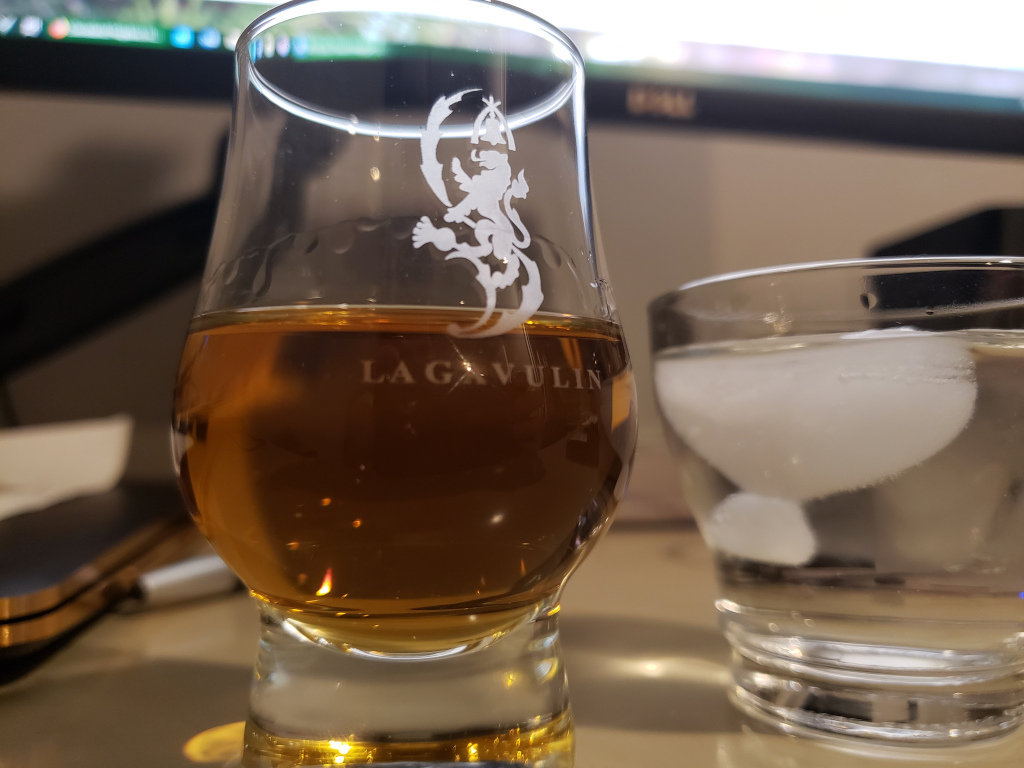 ---
Glen Deveron 20 Highland Single Malt Scotch Whiskey, 40% ABV
Price per 1L at YYZ - Toronto-Pearson International Airport, Canada: $135CAD (~$99USD)
Color: Light brown, toasted straw
Nose: Cherries, apples, toasted wheat; not overly complex (3/5)
Palate: Ripe, fresh fruit, honeydew, apples, red peppers, sherry, fresh-chopped wood, molasses (44/75)
Palate w/Water: Not much improves, but it doesn't get worse; same notes, just less prominent (4/10)
Finish: Raisins, light peat, red wine, plum pudding (8/10)
Mouthfeel: Pretty standard, silky and smooth but no "stickiness" (2/5)
Value: Though it's not likely I'll have the chance again anytime soon, I don't think I'd pickup another bottle. (1/5)
Total Score: 62/100
This is a pretty decent scotch (don't interoperate 62/100 as a grade 'D'), albeit a bit pricey. I'm glad I bought a bottle, but once it's gone, I doubt I'd ever buy this again.
Backstory
I had a trip to Canada recently and decided to peruse the Duty Free store at YYZ before my flight. I saw this bottle priced curiously low for a 20-year vintage. I'd also never heard of it before. Liquor laws in Ohio are pretty conservative and assumed it just wasn't something available in Ohio. I bought a bottle and figured it couldn't be too bad. Luckily it wasn't, but it's not a sleeper either.
Published: 12/21/2018 6:53 PM
Article by: Noah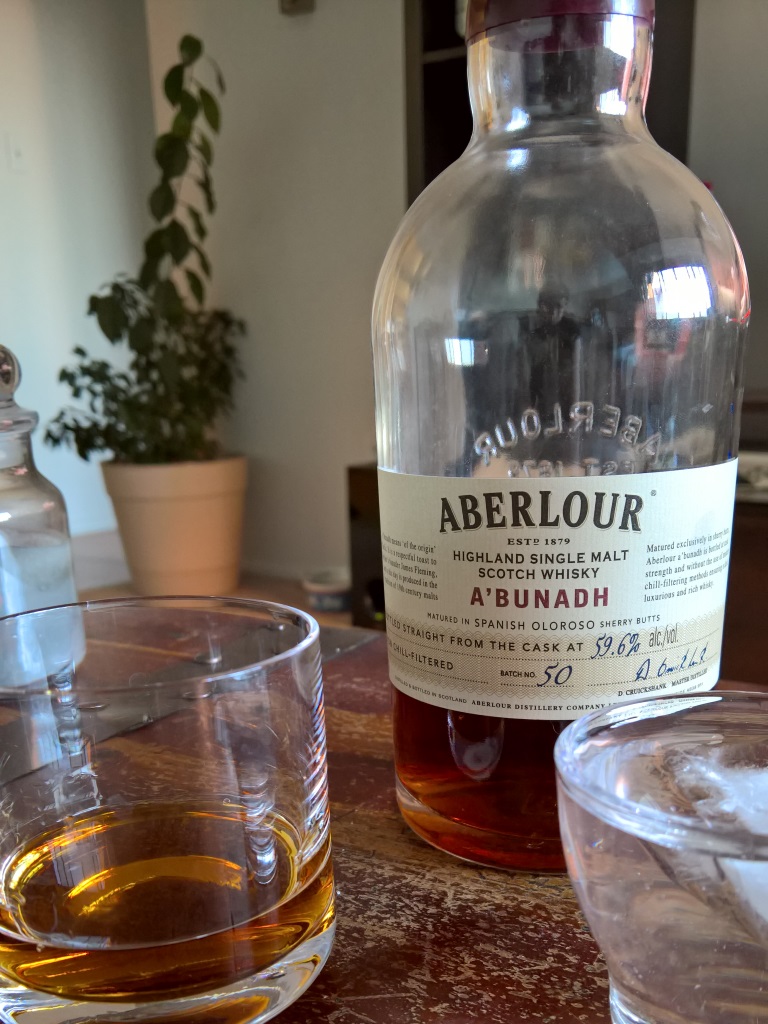 ---
Aberlour A'Bunadh Batch No. 50. Highland Single Malt Scotch Whiskey, 59.6% ABV
Price per 750mL in Cleveland, OH, USA: $66
Color: Deep wood, cherrywood-like, reddish hue to it
Nose: Lots of fruit, plum, peach and cherries, raisins, wood stain, port, sherry, honey, hot sticky jam (5/5)
Palate: Lots of sherry, also fruit, cherries, and alcohol, it's very strong Maple syrup, honey again, nutmeg, allspice (45/75)
Palate w/Water: Still a lot of sherry, but a lot of sweet notes come out, more maple syrup, rose hips, hibiscus, and the plum from the nose comes back (60/75)
Finish: Port wine, gingerbread, fresh-cut mahogany wood, pepper, cayenne, maybe sage? Some herbs. It stays with you a while, even between sips of water (9/10)
Mouthfeel: Thick, very thick. Leaves a strong coating around the palate (4/5)
Value: It's very good with a little water added to cut its strength down, so at least I get more mileage from it (4/5)
Total Score: 82/1000
I love sipping on this scotch in while cooking or as a start to my evening. It's strong and goes well with a splash of water or a single ice cube. I'm curious how other batches of A'Bunadh compare to batch 50.
Published: 3/14/2016 9:59 PM
Article by: Noah
I've decided to add a series of whiskey reviews to my blog. Once I add the ability to sort by category, it might be a bit easier to navigate the reviews only. But for now, I present to you my review.
This is not the first whiskey or scotch I've had by any means, but it is my first "formal" review. As will be tradition with my whiskey reviews, this was drunk neat, with a sip of iced water between sips.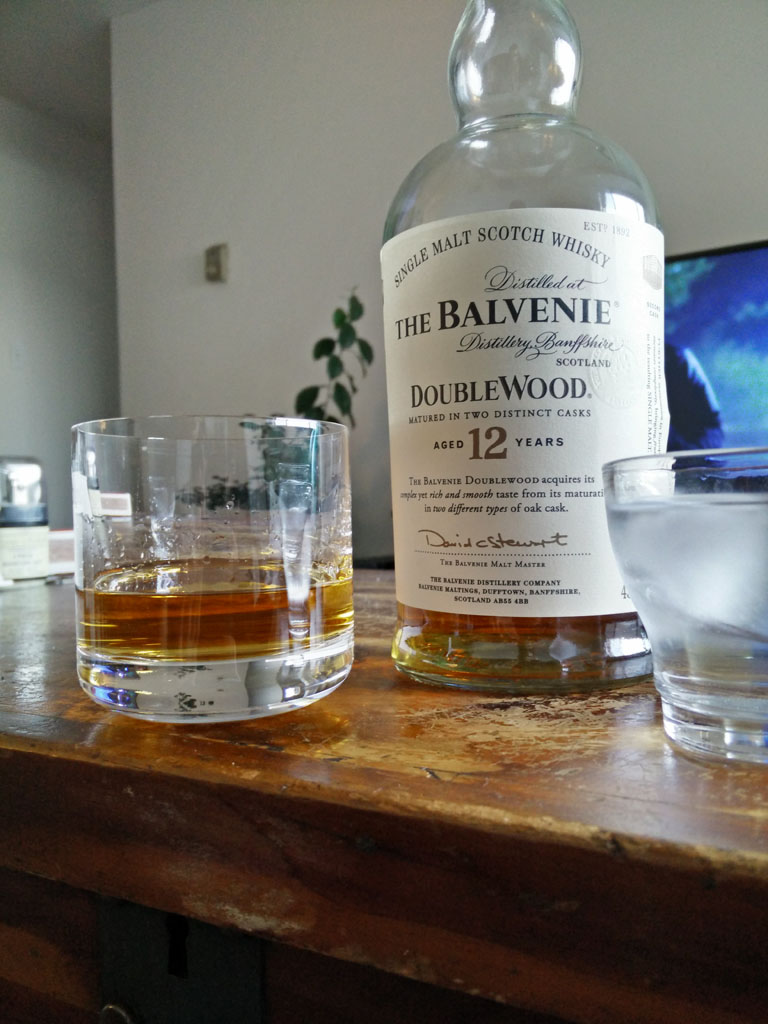 ---
The Balvenie Doublewood: Aged 12 years. Speyside Single Malt Scotch Whiskey, 43% ABV
Price per 750mL in Cleveland, OH, USA: $53
Color: Light Amber
Nose: Fruit, mostly raisins hits first, followed by dried apricots, banana, grapefruit, and hints of strawberry; additionally, there are notes of oak, vanilla, and citric acid (4/5)
Palate: Sherry hits first, followed by our friend, dried fruit; mostly apricot and grapes; as it sits longer, I get hints of pepper, cardamom, clove, and butter toffee (66/75)
Finish: The fruit comes back on the finish and lingers with notes of grape jam, banana creme, sweet oak and spice, which is mostly the clove coming back (7/10)
Mouthfeel: Oily, with a softness about it (5/5)
Value: At $53 for 750mL, this is definitely a deal for me, would buy again (5/5)
Total Score: 87/100
I thought this was a very enjoyable whiskey. It's flavorful and not too complex. For the price, it's a good deal and can be enjoyed by fans of all types of whiskey, not just scotch.
Published: 11/27/2015 9:33 AM
Article by: Noah